Atlas Park Consulting and Finance
Atlas Park helps financial advisors and service based entrepreneurs clarify business vision, move ideas from concept to profit, organize business operations with a clear road map to work with the right clients, drive revenue, escape burn-out, and save time.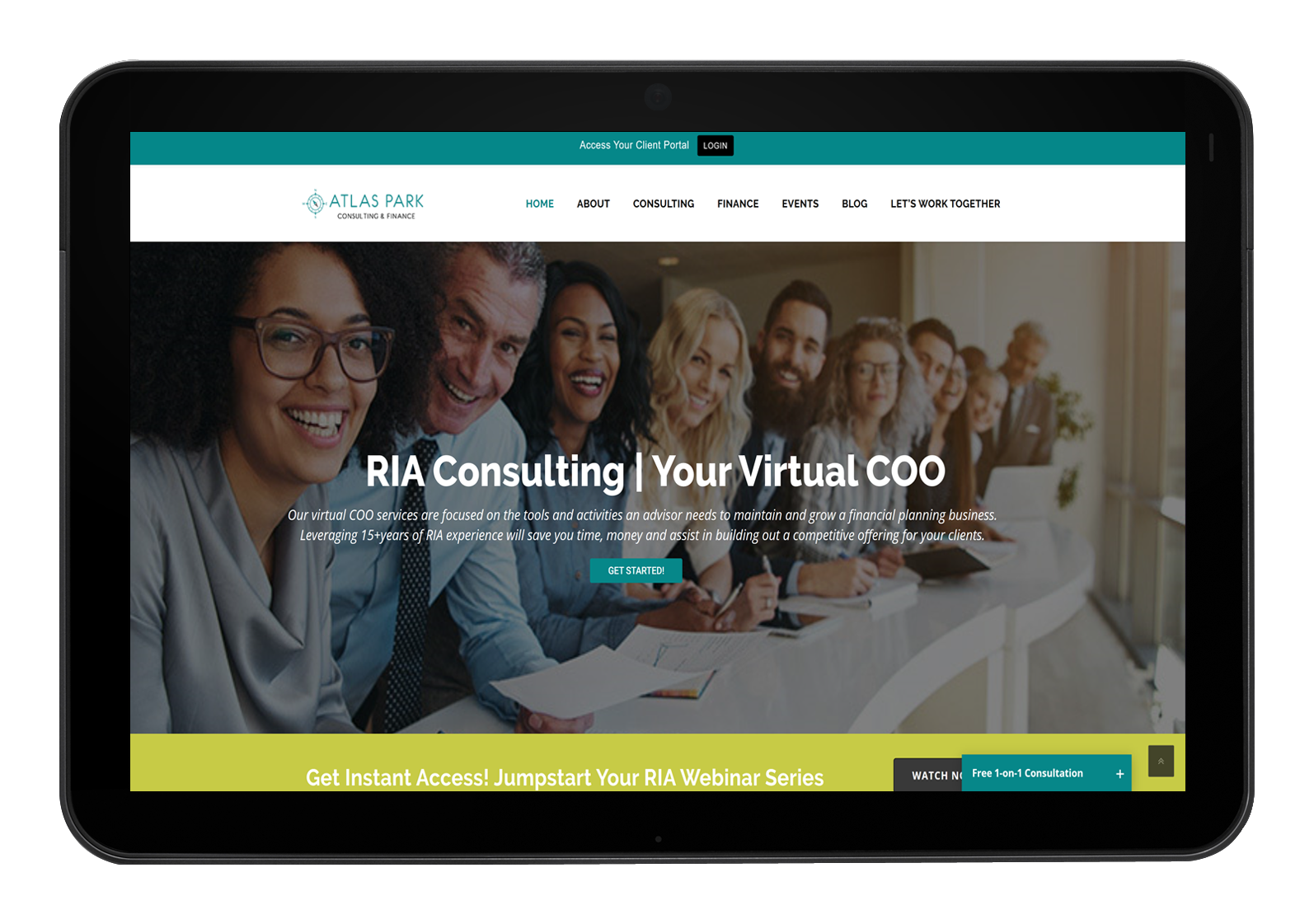 Atlas Park's main challenge was that they were in the startup phase. She had many ideas of how she wanted her brand to be portrayed, but she needed help narrowing them down so that Atlas Park conveyed a clear message and branding to her target audience.
In addition to needing branding help, Atlas Park needed a website with personal branding photos that incorporated clear, easy to find education and call-to-actions; she didn't have the expertise or time to build her own website or have the necessary resources to take personal branding photos.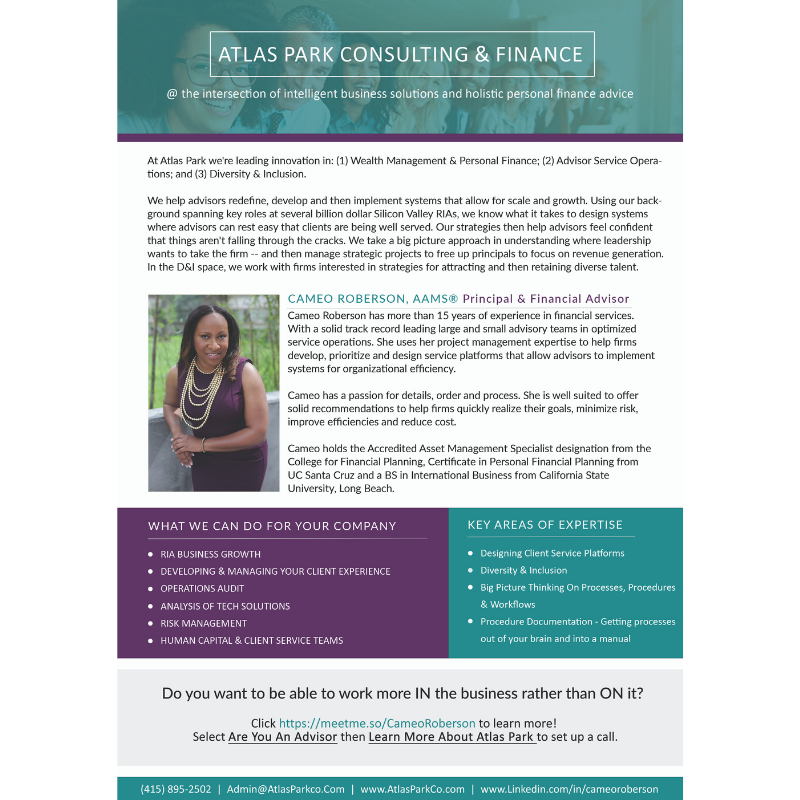 Elite Vivant helped her conquer her challenges to put her on a path towards success. Through multiple questionnaires, various check-ins, and daily communication on a web board, Elite Vivant created a modern, trustworthy, and easy to navigate website as well as a clear brand. With clear call-to-actions and concise copy, we built a website that will function as her right hand as well as guide clients through the sales funnel. Additionally, we built pages to answer common questions in order to nurture potential leads and become a trustworthy resource for her industry. 
While creating her website, Elite Vivant curated a clear brand for Atlas Park through narrowing down and specifying the ideas Atlas Park presented. Through specific curation, Elite Vivant established a clear brand and messaging for Atlas Park, which was weaved through the website in the photos, design, and copy.
During the process of designing and creating her website, Atlas Park collaborated with Elite Vivant to schedule a brand photography session in order to best convey her message to potential customers. As such, Elite Vivant provided a style book and series of specific images to capture the best messaging of the brand to incorporate into the website and for future social media use.
Realizing all of the strategy necessary to establish and build a brand, Atlas Park decided to retain Elite Vivant long-term for email marketing strategy, network growth, brand videography, and more.
 Atlas Park's website received the following accolades:
The Atlas Park website was recognized by Twenty Over Ten as one of the ten POC owned advisory businesses with insanely great marketing due to its multiple squeeze pages for downloads to capture email addresses from potential customers, a dedicated press page that showcases authored editorials and honors in addition to an awards and accolades page, as well as a clear, streamlined navigation that is user-friendly.
Additionally, after participating in Elite Vivant's Network Growth Program, Atlas Park increased LinkedIn Connections by 113.3338% over the course of 3 months. She was also requested to be a guest speaker at the Funding Stack Summit: Explore Alternative Finance to Crowdfunding Ideas virtual conference. 
Her website, branding, and additional products, such as the Network Growth Program, from Elite Vivant resulted in success, new business, and new opportunities to further put Atlas Park in front of an expanded target audience. 
Where do I begin?! Latifah Abdur is an amazing marketing and branding consultant who is authentic, personable, professional and an expert in her craft! She was able to bring my financial services and consulting business vision to life with creativity, freshness, pop! My website is amazing and it has impressed everyone who's seen it! Not only that, she did my professional photos, developed my brand and continues to support me in my business. A one stop shop marketing and branding necessity for any business owner. I HIGHLY recommend her services -- you will not be disappointed!!
Cameo Roberson, AAMS®
Advisor Consultant & Virtual COO