Your brand isn't doing its job if people don't remember it
An engaging Brand & Web Design experience that represents your unique brand and makes an IMPACT.
If you believe in showcasing what you offer in a way that makes people want it and recognize how it can elevate their lives for the better then you are in the right place.
Our approach not only makes a lasting impression at first glance, but also helps connect with people and invites further exploration.
Our Elite Website Design Experiences
We offer two different experience packages to choose from, so you can find the perfect fit for your needs. Plus, we're here to support you every step of the way, so you can always be confident in your online presence.
Web Design | starts at $3500
Our web design process starts with understanding what you're trying to convey and what needs you're trying to meet. We have the knowledge, experience, and modern tools to craft a compelling website with attractive visuals and easy-to-follow architecture. Your website will be user-friendly so customers can quickly obtain information about your business and offerings.
Branding + Web Design | starts at $6500
Our Comprehensive approach to Branding and Web Design ensures each element works in harmony with the other, creating a unified brand message that resonates on every level.
The Branding + Web Design Experience will start with Branding and include all the standard Web Design Experience components. 
In addition to our Elite Web & Branding Design Experience, we offer enhanced services like WooCommerce setup, event registration with text messaging, LinkedIn business profile setup, CRM account setup, and presentation design, and social media graphics. These additional services provide your business with the growth plan needed to ensure success. Not only do they come together cohesively to form an effective action plan, but having them all in one place saves you time and energy in getting your business off the ground and running in the right direction!
We've been empowering businesses in the service and nonprofit industry to reach new levels of  SUCCESS!
As a boutique agency, we have worked with financial advisors, therapists, Fitness Professionals, Photographers, wellness coaches, authors, attorneys, consultants, start-up companies, nonprofits, and more. The professionals in these various industries come to us because they want to do more than get by…they want to make a positive impact in the lives of those they serve while building a profitable business that aligns with their WHY.
"My website is amazing and it has impressed everyone who's seen it! Not only that, she did my professional photos, developed my brand and continues to support me in my business. A one stop shop marketing and branding necessity for any business owner. I HIGHLY recommend her services — you will not be disappointed!! 
Cameo Roberson | Business Coach + Operations Strategist for financial advisory firms
We are honored to be a part of the success of many passionate entrepreneurs and brands who we believe in and who believe in us.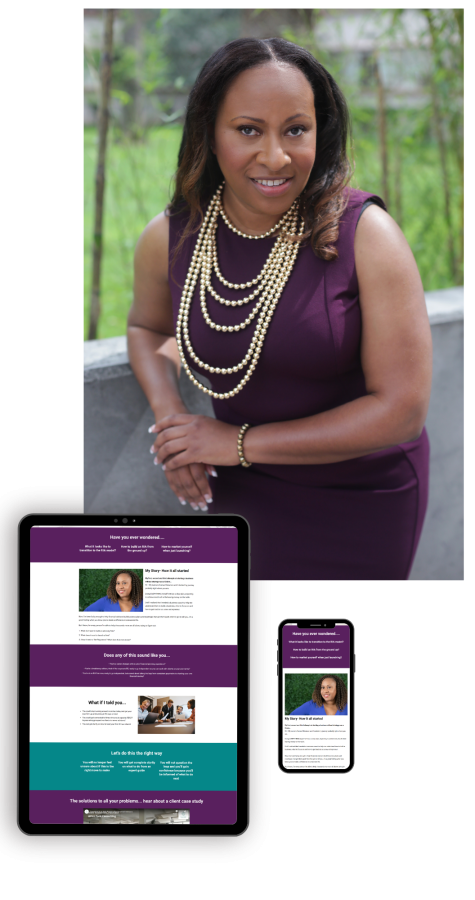 Frequently Asked Questions
We understand how important it is for you to make an informed decision when choosing the right web design and branding agency. Our FAQs provide answers to commonly asked questions and information about how our services work to ensure you feel confident is moving forward with us.
Why do I need brand guidelines?
A brand guideline is your first step to ensure that we are on the same page with your web design project. It will help us understand what kind of look and feel you're going for, along with providing consistency and maintaining a professional image. Your brand style guide will reveal your colors, fonts and key messaging.
Why we conduct a competitive analysis?
Building a website without conducting a competitive analysis first is like playing a game without knowing the rules; you'll never know if your efforts are in the right direction and whether they will lead to success. Competitive analysis helps you identify areas of improvement, find and emulate best practices, determine key features of a successful website, create a competitive edge, and much more. With competitive analysis, you can easily define a clear goal for your website that would enable it to stand out amongst other websites competing for the same target audience. Similarly, you will be able to draw valuable insights from competitors' mistakes and build strategies that directly address customer needs and wants. Armed with such information, building a website becomes simpler as it enables you to leverage technology finely tuned for user satisfaction...allowing your website and business to thrive in an increasingly competitive online market.
Why is copywriting services important?
Our copywriting process takes into account all aspects of client needs and goals. We start by determining the pages to craft content for and then take in the story you have to tell, ensuring that your brand's tone and style shine through authentically. Each piece of writing is a unique combination of relatable informativeness, fun inspiration, and leading-edge strategies, all crafted to move people to take action.
How much input do I have in the process?
This is a collaborative process where you will see mockups and layouts for approval during the design phase. We will also do a Live walk-through for feedback and support.
Where will we get images to use on the website?
While we have access to royalty-free stock images, we highly recommend you book a personal branding session with your favorite local photographer or us. Royalty-free images pose the challenge of lack of diversity and are often used on other peoples' websites. 
Will I be able to update the site myself when it's finished?
Yes! We provide live training that will be recorded and training videos. You must maintain the health of your website. WordPress uses plugins that allow us to customize your website and add additional value to the overall customer experience. These must be updated monthly.
Suppose you want to leave the details to us. After completing your website and handing it over, you can upgrade to a web care plan that includes reporting and monthly strategic meetings.
Will my website have google and facebook analytics?
Everything we do stems from data. We install google analytics, Facebook pixel, and any additional tracking codes necessary to track the success of your website. In addition, we will walk through your 30-day post-launch analytics to see visitor behavior and other important insights.
Are payment plans available?
Yes, We have payment plans available for our services, so you can break up the cost into more manageable chunks. However, be aware that we do not deliver projects until after payments are made in full. Find out how we can work out a payment plan that suits your needs!
How soon can we start?
We welcome new clients in as early as 2 weeks on a 1st come 1st served basis. In the event that we have a waitlist we will open our next available date to the next person on our list. Once the start date is secured with a 50% deposit we begin our onboarding process with intake forms and a schedule project kickoff meeting in person (Los Angeles, CA) or virtually.
Let's step into the spotlight and show off the impact of what you have to offer.
Working on your brand and web design would be a true honor and pleasure! We know how essential it is for entrepreneurs like us to have a comprehensive strategy to reach our goals. Collaborating to maintain a clear, authentic brand is the key to success – I believe we can achieve your mission, values  and goals through these efforts. Let's connect and discuss how this experience can come alive!