Are you feeling way too socially distant these days? Social isolation doesn't have to mean complete disconnect from everyone you know and love. We're trying to help make it easier for you to meet like-minded women while you're stuck at home.
The lockdown-blues are hitting all of us pretty hard. It's tough to stay at home for such long periods of time! Hopefully, you've been FaceTiming your friends and family. Or, maybe you're inviting them to your Animal Crossing island for a little escapism. Letting yourself have fun in what is otherwise a darker time is healthy and good for the soul.
While this situation isn't ideal for anyone, we are lucky in certain ways. Technology has made it possible to connect in ways that were never available before. Even playing video games with friends from a distance can be comforting and relaxing. It was almost perfect timing for a game like Animal Crossing to come out. Naturally, the game would have been a hit regardless. However, people found a lot of comfort in being able to visit their friends on their fictional islands when it can feel like we're living on islands IRL (In Real Life), too.
We've decided we wanted to help you out on that front! So, we've launched a Facebook group called "The Virtual Hangout." Here, you can connect with the group's members and participate in fun, weekly activities. And, since these activities are weekly, there's hopefully something to fit everyone's schedule. Our goal is to help you stay social while social distancing. Women from all over the world connecting and uplifting each other.
Weekly activities include:
Happy Hour – the bars might be closed, but home happy hour is open!
Yoga – Find our Zen and Practice Self-Love
Game Night – a little competition is healthy!
Book Club – keep your mind stimulated while you're physically kept inside.
Cook Along – who knows, maybe you'll learn a new recipe?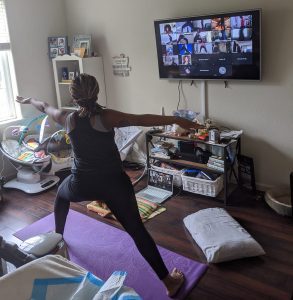 Shout out To Kendra @locknessmonstrocity for the snapshot during our Virtual Yoga with Tiffany @Curl.Crush.Yoga
We have much more planned, too. The goal here is to keep you socialized while you're isolated, so we're definitely getting our creative juices flowing with ideas for activities. We'd also love to hear your ideas! Please let us know if you have any in the comments, or over on the Facebook page.
In all, we hope you and your family are staying safe and healthy. This storm often feels heavy and dark. But, like all other storms, this, too, shall pass. Remember to stay strong, stay positive, and stay connected.
We're so excited to see you at The Virtual Hangout! CLICK HERE TO JOIN US
Read More