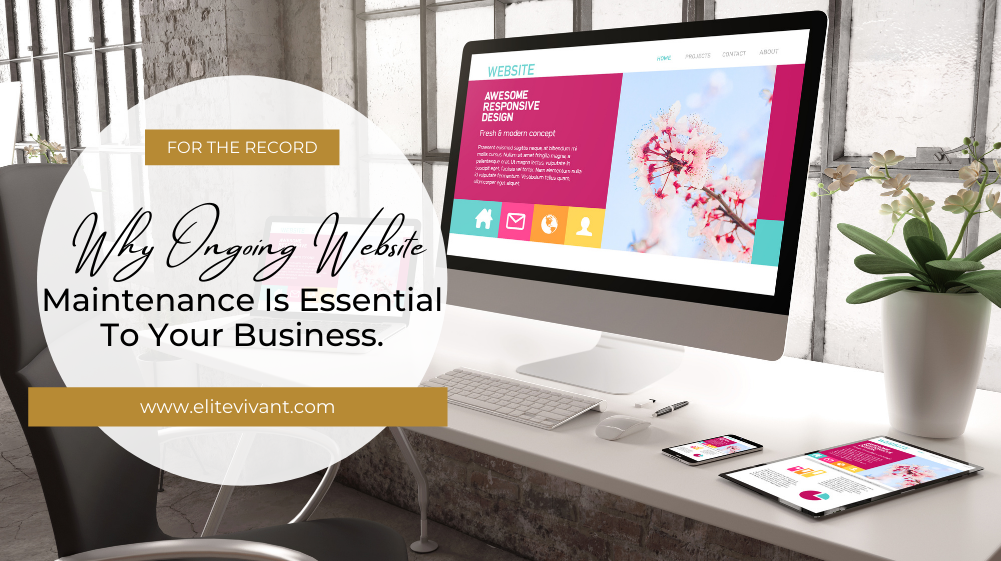 01

Jan
Why Ongoing Website Maintenance Is Essential To Your Business
A living, evolving tool. Your right hand man/ma'am. Once your website has launched, it is not set in stone for eternity, but rather, it needs to evolve with your business.
As a living, ever-changing tool, your website needs on-going check-ups and maintenance to provide essential data and properly function for your business. Since your business slowly changes over time, Elite Vivant can service your website each month by updating and maintaining crucial elements to maintain its longevity and functionality.
Essential maintenance updates for your website include:
Website Changes and Update 

Website down recovery

Website data back-up

Virus & Malware Scanning

Spam Protection

WordPress Core & Plugin Update

Theme Updates

Clean Log & Spam comments

Website speed check & optimize

Support request via Support ticket

Monthly Web Care via Report

Quarterly Suggestion for Website Improvement
Maintain the Health of Your Website – In order to maintain optimal functionality and avoid vulnerabilities, it is necessary to update your core and plugins since WordPress offers updates to address security concerns. For instance, hackers can steal data from your website and re-route customers to other websites from your own website. As a result, your business could lose sales and trust from your client base. Maintaining a healthy website with the proper updates ensures a fully functioning updated space for your customers to engage with your business. 
Backups – It is important to backup the website each month to maintain the updates and data collected by your website. If your website is not backed up each month and a catastrophe occurs, there is no way to access all the past data. 
Updated Graphics and Messaging – Since your business changes and evolves over time, it is necessary to update the messaging and graphics on your page to keep your website fresh for your customers. By keeping your graphics and messaging on your website current, you are extending the longevity of your website instead of having to create a whole new one in a few years to better fit your evolving business; thus, avoiding a much larger expense! 
If you haven't already completed our New Client Questionnaire, get started here to learn how your goals and our solutions align.