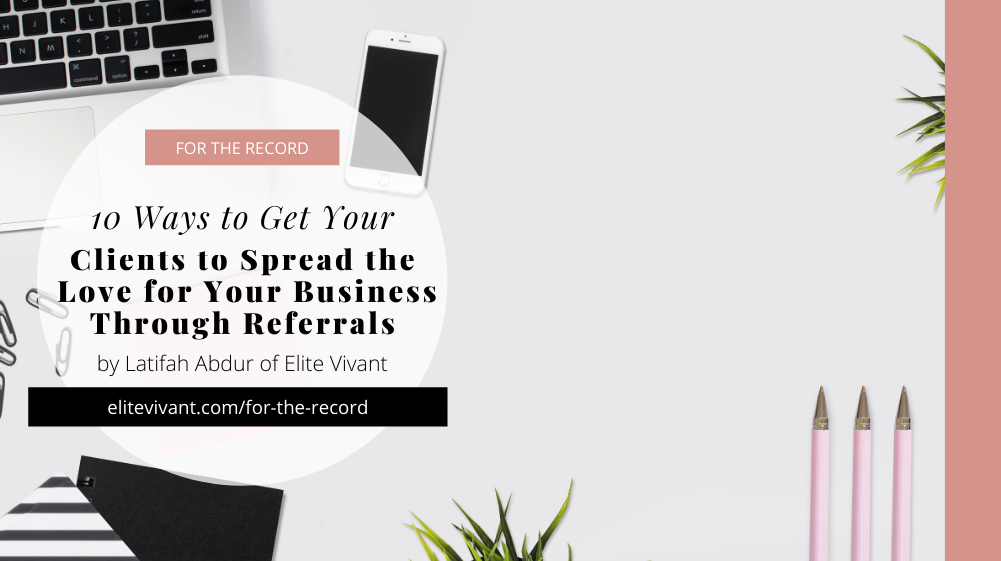 04

Feb
10 Ways to Get Your Clients to Spread the Love for Your Business Through Referrals
We all love to feel the love. Asking for referrals is a delicate balance and consideration and a strategy must be in place 1st. Our clients mean a lot to us and their loyalty keeps us going. Here are some tips on how you can ask for referrals from your trusted clients without feeling desperate or awkward.
1. Offer an incentive.
This may seem redundant at first when considering the idea that you don't want to seem pushy. Understanding their beliefs and passions can help you figure out what is valuable to them.
2. Just ask.
The "just ask" method is easier said than done. If you've provided high-quality work for them, it's safe to say you've earned a referral.
Try this sample for your invoices: " I have enjoyed working with you, please be sure to refer a friend or colleague if they can also benefit from elevating their business. Thank you for your time and I look forward to working with you again."
3. Know your best clients.
When you have an established relationship with certain clients, it's easier to know where you stand. They're more familiar with your services too. With that being said, their reviews to the people that are trying to refer will be more comprehensive.
4. Personalize it.
Pay attention to what your clients mention during your time working together. They'll often mention needing additional services, so you can refer them to relevant ones you offer.
5. Make it easy.
If your referral process is too complicated, it's unlikely that your clients will use it. Make it as simple as a mailing list sign-up sheet. When it's all in one place, it's harder to get distracted.
6. Provide rewards.
There are several different ways that you can do this. Many business owners like the tried-and-true method of commissions programs. This allows the referrer to earn money in return for referrals. Alternatively, you can offer discounts on future projects for clients who refer new ones to you.
7. Stay in contact.
Even after your contract ends and the project is finished, keep your client's contact info and check in on them. This lets them know that you care about the quality of your work and your working relationship. Also, you can send them info that they may find helpful.
8. Stay social.
LinkedIn is a powerful tool for professionals and entrepreneurs/business owners. It's a great way to network with the people who may be interested in your services. A great place to start is to look at the connections that your current clients have and work from there.
9. Prioritize your clients.
Most business owners want to do this by default. However, if you take it a step further, they'll notice. Show them that their opinion matters to you by allowing them to test out new products that you offer. Their feedback is valuable to you already, but the added layer is also beneficial.
10. Surprise them with a bonus.
While you've already put in hard work for their project, throw in a little surprise! This doesn't have to be anything really intricate or time-consuming. It could also be reserved for birthdays or other anniversaries. Regardless, this solidifies your bond to them and makes them excited to work with you again.
Building relationships with your clients is a huge part of being a business owner. You have a delicate balance to uphold, but these are also people that want to see you succeed. When you put out the high-quality work that you're known for, the word will spread.
Does your business need a referral workflow with email templates? Complete our New Client Questionnaire so that we can understand your needs and provide the best fit solutions.