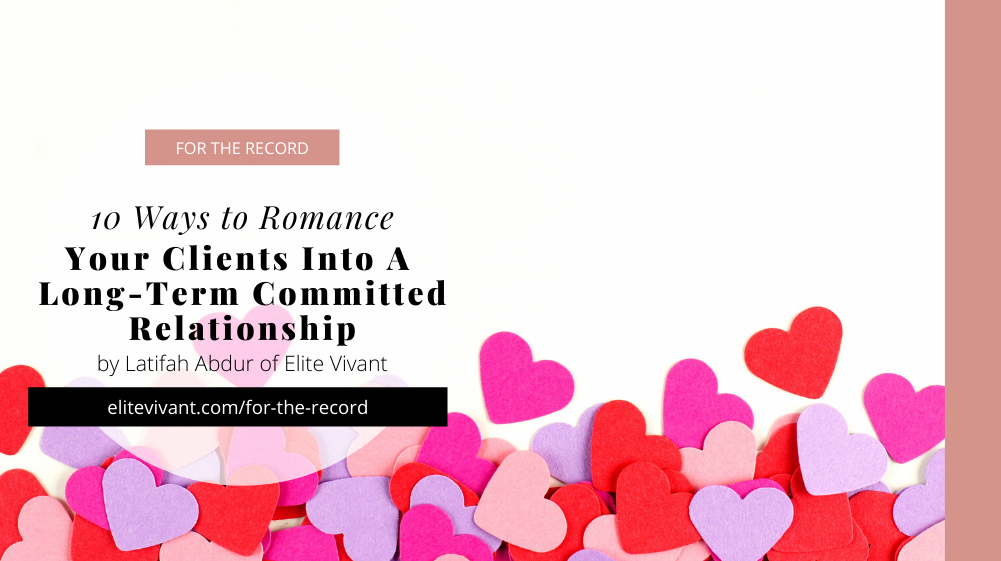 12

Feb
10 Ways to Romance Your Clients Into A Long-Term Committed Relationship
Give your personal and work relationships the TLC they deserve. These 10 tips will have your clients head over heels for the long haul.
Many freelancers and business owners begin their journey with only the big picture in mind. They envision their dream clients, who are often high-profile people within their niche. While reaching for the stars is never a bad idea, it's also not the end-all. Sometimes, the best clients are the ones who grow with you. Establishing a relationship where they fall in love with what you have to offer. So, how do you begin?
1. Use your niche to your advantage.
Having a particularly tight niche can benefit you in many ways. Networking becomes easier when you have a smaller circle to choose from. Additionally, this can make your work stand out from the crowd.
2. Give the relationship some (professional) TLC.
Receiving feedback from a client after a project is finished promotes communication. It also shows them that you care. As with any relationship, showing that you care is essential.
3. Express your passion.
Passion is impressive in both professional and social settings. Often, showing that you're enthusiastic about a project will make clients eager to work with you again.
4. Know your worth.
Having a deep understanding about your value within your field makes you more appealing. Just as confidence is attractive when looking for a partner, the same goes for clients.
5.  Stay engaged on social media.
Word of mouth can take you far. A client with a large following can bring in referrals, but they can also help you build up your own reputation. They can help you while you help them.
6. Remind them they're special.
This isn't the same as the "special" feeling that you would make a first date feel. While you need to show your value to them, show them their value to you.
7. Be communicative.
Communication is key in any relationship. Responding to questions and concerns in a timely manner shows that you're responsible and respectful.
8. Be versatile.
Uniqueness is attractive in many different ways. When you stand out to a client, they'll be more likely to return. A good idea is to offer Ongoing Support services that they may need later on.
9. Be honest.
You wouldn't lie to a significant other. Be honest with your client about their expectations and how you can meet them. Don't try and stretch the truth to meet what you feel are their expectations for you.
10. Reward them.
Just like you'd spoil a date with gifts after some time, do the same with loyal clients. Offer incentives such as a percentage off the fee for the next time you work together.
Think about how to romance your clients. While it may seem miles away from romancing a date, similar ideas apply. The key to a long-lasting relationship with a client is communication, honesty, and effort! Finding the perfect client may feel a little different than finding your soulmate. However, the benefits are just as rewarding in the end.
Building relationships with your clients is a huge part of being a business owner. When you put out the high-quality work that you're known for, the will continue to show you love and the word about how you pour love into what you do will spread. 
Does your business need a solid plan to build client loyalty? Complete our New Client Questionnaire so that we can understand your needs and provide the best fit solutions