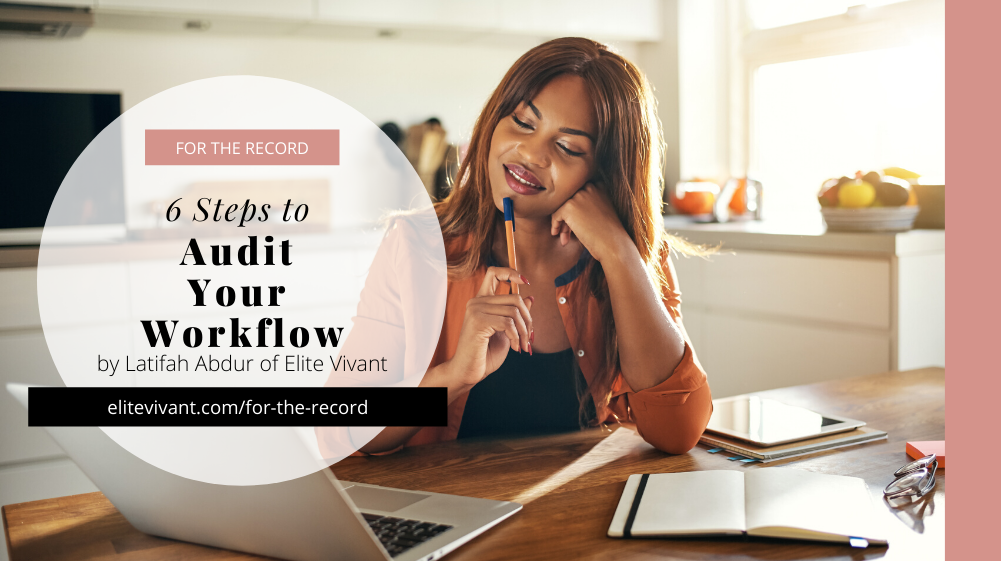 16

Feb
6 Steps to Audit Your Workflow
Cleaning up your workflow process is essential to making sure everything is running smoothly. Just as you would with finances, running a workflow audit ensures that your processes are still productive and valuable to you.
Spring cleaning does not have to only happen in the spring or to your closets, home, and things that no longer benefit you. The same method should be used within your business. Think of a workflow audit as spring cleaning for your business.
After all, the whole point of implementing regular workflow processes is to increase productivity. If there's any lingering dust, it'll show. Think about everything that you do to maximize productivity. This becomes your workflow process, whether you recognize it or not. It becomes the time to audit workflow when you question what is working and what isn't.
When you're running your own ship, this task is in some ways, easier but in other ways, harder to accomplish because you may be to close to see the problems for yourself.  Let's look at some simple ways that you can keep these processes productive and helpful.
1. Examine your technology.
Many business owners and solopreneurs use various forms of technology to get things done. These tools can be laptops, smartphones, tablets, etc. Think about the software you use regularly to get things done. This audit is a great time to update things you use regularly and delete things you do not. Pro tip: be sure to save backup files of everything on an external hard drive! You never know what you may need later.
2. Look at your schedule.
The way you manage your day-to-day activities at work and at home can come together with your workflow processes. After all, it is your life and business! If you designate specific hours in your day to working on projects, you're more likely to check things off your to-do lists.
3. Identify your processes.
Make a list of the workflow processes that you commonly use. Take note of each step and its purpose. If you have a larger overview of each process that you use, it'll be easier to narrow it down to what actually works. After you have created this list, rank each process from what is the most beneficial to what is the least beneficial.
4. Identify why your processes do or do not work.
Having an overall ranking of your workflow processes and their levels of productivity allows you to see what you're doing right. Now, it's time to make this list a bit more comprehensive. A ranking is only as good as the reasoning behind it. Create a list of 2 or 3 bullet points regarding the pros and cons of each process. Doing this makes it much easier to redesign things that don't work and fine-tune what does.
5. Acquire any additional tools and resources.
Once you have your ideas of what you need to change in your workflow, it's time to gather tools. Having resources like email templates and other related forms will keep you organized for the long-haul.
6. Implement the changes into your day-to-day.
Now that you've talked the talk, you need to walk the walk. A complete overhaul of the systems you grew use to using may not be the best approach. When you audit workflow, it's tempting to just implement these new processes right away. However, you could be in the middle of a project where you use your old workflow processes. It's a better idea to implement them slowly. It takes a month to build a habit. Allow yourself that amount of time to use your new workflow processes in all of your projects.
Doing a workflow audit is one of the most effective ways to improve your productivity. Breaking it down into these simpler tasks will make it far less intimidating. 
Does your workflow need another pair of eyes to help find new opportunities to increase your productivity? Complete our New Client Questionnaire so that we can understand your needs and provide the best fit solutions.