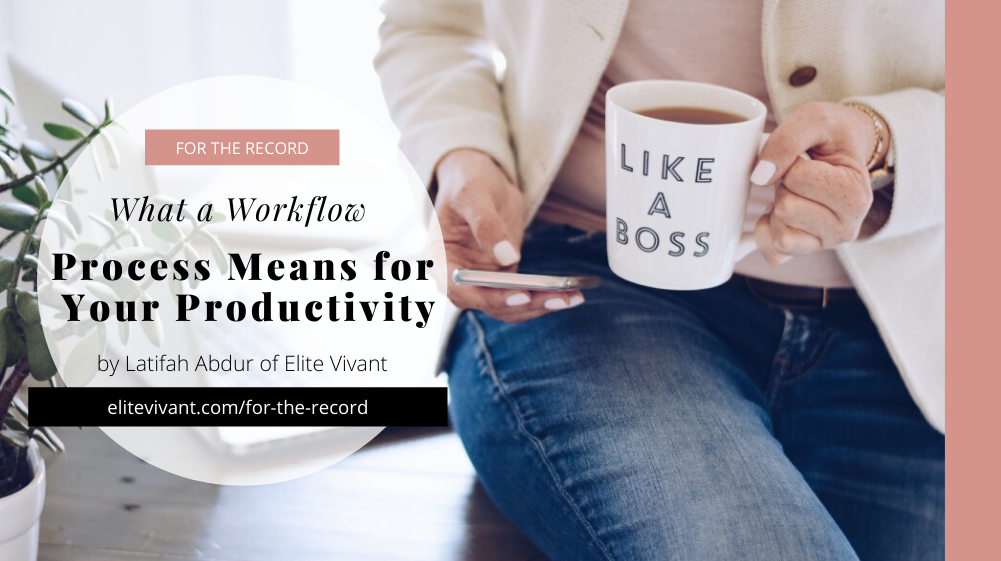 16

Feb
What a Workflow Process Means for Your Productivity
Having a clear workflow process can drastically improve your performance. In fact, a workflow process will help you implement productive strategies to get projects done efficiently and on time. 
As you navigate these waters, any size project can appear to be intimidating to map out. This is where a workflow process comes in.
One of the biggest perks of working as you build your business is learning about what works and what does not. So while you expand you are able to implementing workflow processes early on that can transfer over once you eventually build your team and grow.
What Is A Workflow Process?
A workflow process is, in short, is the way that a project gets done using a solid set of rules. Having a process to get work done isn't always the easiest to execute. They are in fact a great way hold yourself and/or team accountable to a defined tasks.
Types of Problematic Workflow Processes
While building a workflow process, it's worth it to consider problematic processes that are often used in established teams. This way, you can avoid them in the future and prevent your productivity from plateauing.
In an already established team, one of the most common types of workflow processes is called a "legacy process." This is one that's been in place for many years. The issue that arises with these is that there may be a hard time parting ways with an old way of doing things. If you consistently keep different kinds of processes in mind for each of your projects, this will impact your productivity overtime. You'll constantly be adapting, and those who work with you will have to, as well.
Additionally, other workflow processes can come in from outside sources. Tasks become difficult this way since you can't control what the outside sources do. There is also the kind of process that requires a tool to complete tasks. Objectively, this isn't always a roadblock. But, sometimes it does affect flexibility and therefore results. However, the worst option is to have no workflow process at all. That won't get you anywhere.
Think About the Big Picture
This is a lot like breaking down a to-do list. If you have the bigger picture in mind, it's much easier to create smaller tasks. In turn, this is a great start to and how we create a workflow process for our clients.
A good place to start would be to create a checklist. Next, analyzing how to tackle each task head-on will help make projects appear less daunting. If you're working collaboratively, now is the time to assign roles. Assigning the correct leadership dynamic is the final step in finding out how to effectively get things done.
Defining Your Workflow
Make diagrams for yourself. Make sure that these include realistic expectations so you aren't overwhelmed with your work.
Once everyone involved in the project is on board, come up with a more cohesive plan of action.
Any tools needed to complete a project should aid the process, not create a roadblock.
Communication is key in business as it is in relationships! If you're working by yourself, this could be in regards to communicating with a client. Making sure everyone involved in the project is on-board ensures that nobody is overly stressed. The top killer for productivity is stress, as stress leads to confusion.
Optimizing Your Workflow Process
Now that you have the pieces of your puzzle laid out, it's time to think about efficiency. Automated systems are the simplest way to do this. These programs help with tracking tasks and they update them in real-time.
Automated systems also help you stay focused. Not only are notifications helpful reminders, but having a specific space to look at keeps yourself organized. What's even better is, you're notified when tasks are complete!
Is Your Workflow Working?
Once you've followed all the steps to create a workflow, it's time to be honest with yourself. Did this workflow process benefit you? What worked and what didn't? If anything seemed redundant, you'll know to eliminate that for the next project. This is where a Client Relationship Management (CRM) system as well as a Project Management system also beneficial. Understanding what took longer will help you create more accurate workflow processes.
Implementing workflow processes into your projects gives you a better understanding of productivity. You're made more accurately aware of what you're supposed to do, and therefore there's less room for error. Also, there are more opportunities to spread work out between different tasks. Overall, the missing piece to your productivity puzzle may just be a solid workflow process!
Does your workflows need a new direction, strategy and implementation? Complete our New Client Questionnaire so that we can understand your needs and provide the best fit solutions.