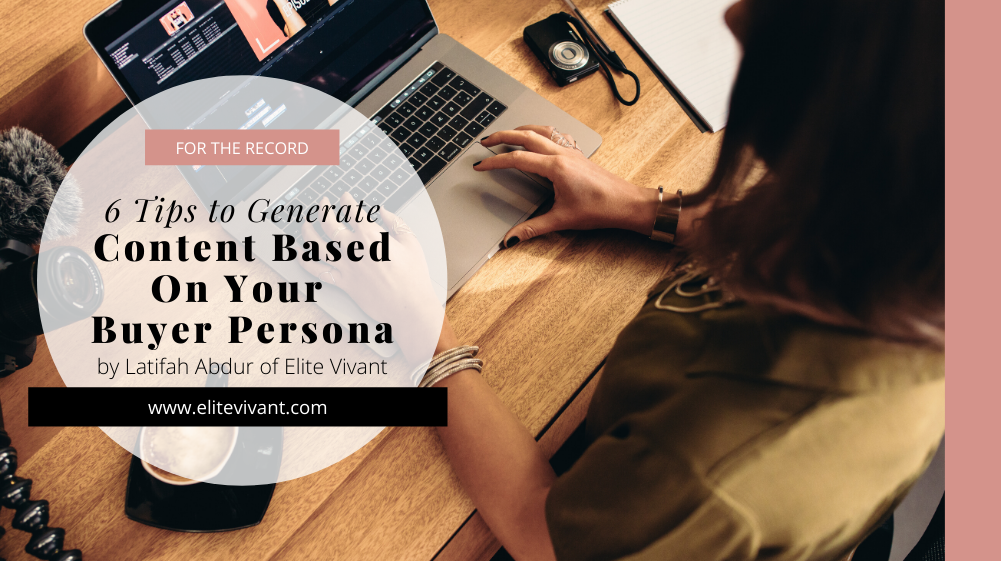 05

Apr
6 Tips to Generate Content Based On Your Buyer Persona
First impressions are crucial. When your goal is converting leads into sales, the first impression is generated through your Buyer Persona. These 6 tips can help you create the most effective content based on your Buyer Persona.
Lately, we've been focusing on sales funnels and how to use that process to convert leads. While a sales funnel is an incredibly effective tool to create long-term clients and customers, understanding your Buyer's Persona is what keeps the funnel flowing steadily. Think of a Buyer's Persona as an avatar for your clients. Your Buyer's Persona will help you define that demographic and be the basis of how you develop content to keep their attention for the long haul.
Creating engaging and relevant content that is catered to your Buyer's Persona is the easiest way to grasp that attention. There are several ways to do this, so it's time to get creative! First, let's define your Buyer's Persona.
In short, you'll want to really tell a story with this person. Start with the basics:
Their name
Their age
Their gender (if you feel that this changes your conversion rates)
Their likes and dislikes
Their motivation/goals
The fun part is writing their story. You can really get as creative as possible here. Personify them until you can see them.
Once you have that clear image in your head, it's time to generate content!
1. Talk to Your Audience
Understanding your audience's needs is easiest when you get clear instructions from them directly. You can do this by:
Running a survey. This can be done through sites such as SurveyMonkey or even Google Surveys. You can attach this survey in an email since you'll already have their attention in your monthly newsletter
Interact through the comments in your Ask an engaging question at the end of a blog post. This approach makes you relatable and reliable to your readers. They'll see that you care about their needs, and this, in turn, strengthens your relationship
2. Scope Out Your Competition
Now, don't get us wrong here. We don't want you to copy what your competition is doing to a t. However, use their analytics to your advantage. See what content drives more engagement. If your products and services are recognizably similar, this will help even more. You'll be able to draw ideas from their successes seamlessly.
3. Remember Your Funnel
The goal here is to move leads through your sales funnel. And, you're attempting to do so quickly. Having multiple platforms and varying kinds of content generates more leads because you're amplifying your message to more people at once. Sounds easy enough, right? There are tons of platforms out there where you can publish amazing and helpful content!
Blogs
First of all, it's so important that you have a blog for your business. This is where you can post content once a week (or, more than once) that can inform your readers on subjects that are relevant to your services. Blog posts are typically a 5-minute-or-so read, and they can also help you promote new products or services.
For example, we provide Digital Marketing & Growth Strategies, where we can help you effectively communicate to your Buyer's Personas. 
4. Do Research
Start on Google. Pretend you are a lead. Making things broader at first will get you introduced to concepts like SEO (Search Engine Optimization). You'll begin to learn what keywords are attracting the most traffic. From there, narrow in your searches by using platforms like Quora. This will give you the exact questions that your audience is asking. You'll be able to create content based on those questions.
5. Shop Around Platforms
Pros: there are tons of social media platforms to publish content onto.
Cons: there are tons of social media platforms to publish content onto.
The plethora of social media platforms may be confusing at first glance, but learning their strengths will help you better understand where to place your content for the best results. Also, depending on what it is you do, certain platforms will attract more traffic based on the platform's demographic. That, in turn, generates even more leads.
Let's have a quick rundown of the ones to watch.
Tik Tok
This is one of the newest social media crazes in general. Tik Tok is the short-form content king at the moment. Videos are no longer than 90 seconds, and the topics at hand are limitless (as long as they adhere to the app's user guidelines!). Tik Tok has an easy interface that makes it simple for editing newbies to get the hang of it.
Tik Tok has everything from viral dance numbers to business professionals sharing their tips to food videos to… you name it! If you have some tips that you can share with your audience in 90 seconds or less, it's worth checking out! Its algorithm also makes it really easy to go viral, if you're into that.
YouTube
YouTube is Tik Tok's older, more experienced sister. It's pretty much like Google 2. People often use it synonymously with a search engine these days. This is where you go to post longer videos, within the 10-15-minute range is best, and share your expertise! You can make YouTube videos about anything you want and edit them as intensely or casual as you'd like.
Instagram
Instagram isn't just for pretty scenic photos or your best selfie. Posting engaging content on Instagram is one of the quickest ways to get people to check out your website, or to promote a new service or product. You can also actively engage with your audience easily on this platform. Their comments section is one of the easiest to navigate.
6. Understand Your Audience's Problems
The first place that people tend to go for problem-solving these days is the internet. Google can solve all our problems, right?
If you understand how your products and services can help them solve their own problems, that will draw in more leads. If your Buyer's Persona is detailed enough, you'll be able to know what their problems are and generate content that answers these questions.
Once you've established your Buyer's Persona, you will know have the tools on how you to get them to know like and trust you and your brand. Hopefully, these ideas have inspired you to create new and exciting content. 
What does your Buyer's Persona look like? Let us know in the comments!
Do you need help creating the right content to drive your buyer persona to your website? Complete our New Client Questionnaire so that we can understand your needs and provide the best fit solutions.