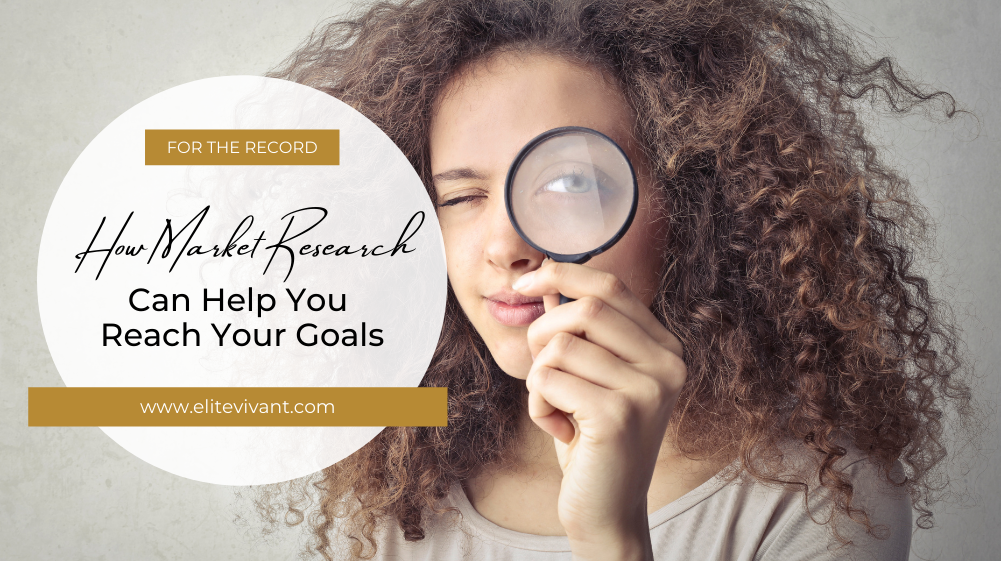 15

Jan
How Market Research Can Help You Reach Your Goals
Market research can be one of the most useful tools that you implement into your business routines. These regular checkups can provide valuable data that helps you better understand your audience and their expectations of you.
How can you improve if you do not know where to begin? It can be difficult to grasp what your audience needs and expects from you solely based on comments they leave on your social media channels. This is often the most consistent form of communication that you'll have between yourself and them. So, in order to open the door for more feedback, you're going to have to roll up your sleeves a bit. Market research can help you achieve just that. Whether you're already established or just starting out, it's important to collect this data from your customer or client base. This way, you can identify the obstacles that are in your way and use the data you gather to move past them and towards your goals. Additionally, your market research can help you paint a clear picture of your buyer persona.
Now that we've established why market research is so important to your business, you're probably curious as to how to implement them. Here are some of the most commonly used ones:
Surveys are incredibly popular because they're easy to conduct. They can be conducted online or by telephone. But…let's be real! Who sits through telephone surveys these days? Online surveys are quick and user-friendly.
Workshops help get a diverse look into your demographic. Focus groups work similarly. These days, technology allows for digital workshops and focus groups to be held at a fraction of the cost. This format helps with broader questions, whereas surveys only get you a slice of the pie.
Facebook's Audience Insight tool gives you an in-depth glance at your demographic in a way that you may not be able to get elsewhere. Analytics on social media are a useful gadget that tells you who your audience is. This helps you build your buyer's persona, so you can plan your campaigns accordingly. Facebook's insight tool shows you everything from age, gender, and interests that are shared by your audience. You can find this tool in the "tools" menu of your Ads Manager settings.
It's also important to hear from your employees who directly interact with your customers. If you have storefronts, your cashiers and representatives will be the go-to. However, for service-based operations, you'll want to hear from your sales reps. They'll be interacting with your clients from the early stages of the sale, so they'll have an interesting perspective on their needs.
A little bit of healthy competition can't hurt.
Let's get this straight—I don't want you to obsess over your competition. You don't want to accidentally model yourself off of what someone else is already doing. BUT, you do want to take them into consideration when you're doing market research. Knowing their strengths and weaknesses can help you paint a better idea of your own.
A few more things to consider…
When you are conducting brand research, the end goal is to get a keen perspective on your audience's expectations of you. You need to think about the things that make your brand special to them. What makes your favorite brand (other than your own!) special to you? Think about:
Sentimental value – What gets people attached to you/your brand?
Recognizability – Can they set you apart from the crowd easily? Can they name you without thinking twice about it?
Association – What do they associate with your brand? This ties into sentimental value, as these associations are often feelings.
Tips & Tricks
Asking broader questions helps get a more detailed response from your survey group. This leaves less room for basic "yes or no" answers
Understand that each method does not have a way to eliminate bias. Recognize the potential for biased answers in every method that you use. Try to minimize these when you're creating your research material
Eliminate your own bias. You'll probably have an idea of where you want the surveys to go. If necessary, let someone else lead the discussions to avoid this issue!
The best part about  market research is that there are so many possibilities in completing it. There is no "one size fits all" for any brand!  Gathering this data eliminates some of the obstacles that you might not have known were there in the first place!
Ready to build a data supported brand? Complete our New Client Questionnaire so that we can understand your needs and provide the best fit solutions.