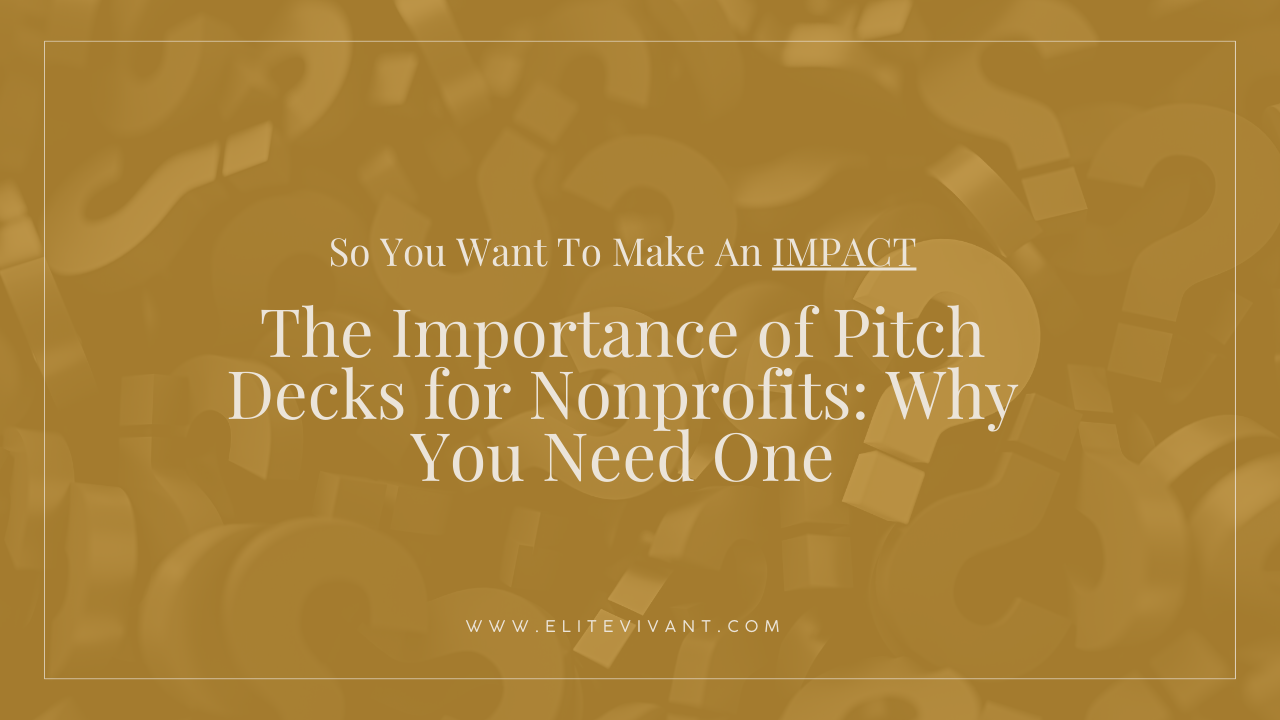 11

Mar
The Importance of Pitch Decks for Nonprofits: Why You Need One
As a nonprofit leader, making your organization stand out and reach its full potential can be difficult. A strong pitch deck is an essential tool for communicating the impact of your work with prospective partners and donors – allowing you to attract support from those who are invested in seeing positive change happen! Crafting compelling stories about what makes your cause unique will help foster meaningful connections with people passionate about furthering social good – don't wait any longer – take the first step towards amplifying the power of giving by creating your nonprofit pitch deck.
What is a Pitch Deck, and why is it important for nonprofits to have one
A nonprofit pitch deck is a document that provides an overview of your nonprofit's mission, impact, and performance. This deck serves as an effective business tool for organizations raising awareness about their cause and challenging potential donors to invest in their nonprofit's growth. It shouldn't simply be used as a one-time presentation; instead, it should be a comprehensive guide that leaves a lasting impression on all involved parties. With the right storytelling and persuasive research supporting key points within the nonprofit pitch decks, people will become familiar with your nonprofit's vision, understand how they can play a part in nurturing its success and progress, and build trust that ultimately fuels the nonprofit's long-term fulfillment of its mission.
Elements to include in a nonprofit pitch deck
Start with a compelling introduction: Start your pitch deck with a captivating introduction that will grab your audience's attention. Use compelling visuals and statistics – or even personal stories! – to effectively demonstrate why this issue is so pertinent and how you plan on resolving it.

Clearly define your mission and goals: A clear view of your nonprofit's goals is essential for creating meaningful connections with your audience. You can better engage with those who share similar passions by illustrating what the organization stands for and its desired outcomes.

Highlight your impact: Share examples of your organization's impact on the community you serve. Use data and visuals to help illustrate the results of your work.

Discuss your programs and services: Provide a brief overview of your organization's programs and services. Be sure to focus on the most important aspects of each program and provide examples of how they have helped your clients.

Show your team: Introduce the members of your team and their qualifications. This will help establish trust and credibility with your audience.

Share your financials: Include a slide that outlines your nonprofit's financials. This should include your budget, revenue sources, and other relevant financial information.

Call to action: End your pitch deck with a strong call to action. Encourage your audience to get involved, donate, or volunteer.
Best practice for creating an effective pitch deck
When crafting your pitch deck, remember the power of brevity. A concise presentation is ideal for captivating target audiences – think 15 slides at most!
How to use a nonprofit pitch deck to get the attention of potential donors and partners
There are many ways to share your nonprofit pitch deck, including:
Email: You can share your pitch deck with potential donors or investors by attaching it to an email.

Online platforms: You can upload your pitch deck to online platforms such as Slideshare, Google Drive, or Dropbox and share the link with others.

Social media: You can share your pitch deck on social media platforms, such as LinkedIn, Twitter, and Facebook, to reach a wider audience.

Personal meetings: You can schedule individual meetings with potential donors or investors and present your pitch deck in person.

Events: You can participate in nonprofit events or conferences and present your pitch deck to attendees.

Mailing: You can mail your pitch deck physical copies to potential donors or investors.

Crowdfunding platforms: You can also share your pitch deck on crowdfunding platforms like Kickstarter or GoFundMe to raise funds for your nonprofit.
Tailoring your sharing strategy to your target audience and the context in which you're sharing your pitch deck is essential. For example, social media and crowdfunding platforms may be more effective for reaching a wider audience. At the same time, personal meetings or events may be more effective for building relationships with potential donors or investors.
A strong and successful pitch deck for your nonprofit is essential for success. When creating yours, think of it as an info-packed story that will reveal more about your mission to potential donors and partners. Keep the design clean and focused on the highlights you want to present; maintain consistency throughout; make sure to keep up with trends in the sector; explain why your cause matters; prioritize brand cohesiveness by including visuals of logos and icons; be transparent about how donations are used; and don't forget to include contact information. With these tips in mind, you can be sure that your nonprofit pitch deck is unique, engaging, and professional. Building a successful pitch deck requires time, effort, and experience, so don't hesitate to reach out for assistance if you need it!
Feel free to schedule a consultation with us here at Elite Vivant – we would be happy to help ensure that your pitch deck shines and drives results for your nonprofit. Don't forget with a strong presentation, your nonprofit stands the best chance when seeking investments or donations.