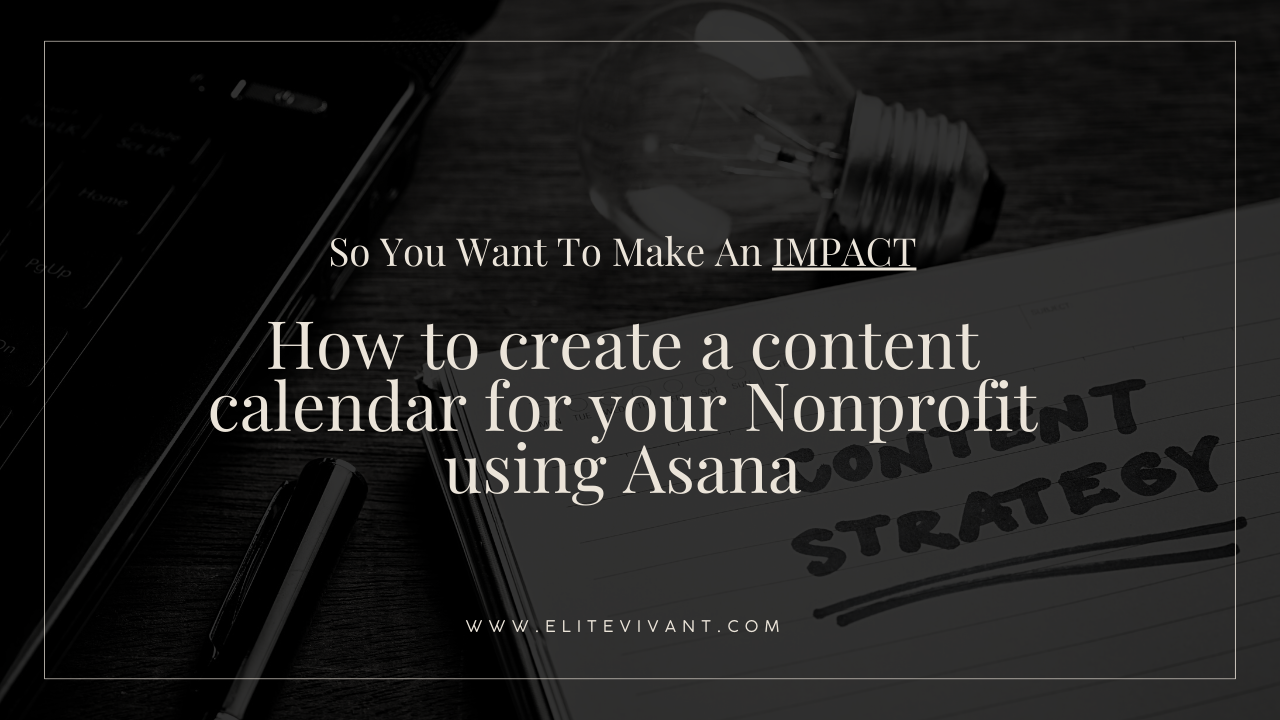 11

Mar
How to create a content calendar for your Nonprofit using Asana
Do you need help keeping track of all your content and campaigns? Do you want to maximize the reach of your nonprofit's materials but need help figuring out how to begin? If so, a content calendar is exactly what you need. Content calendars can help nonprofits deliver consistent, engaging messaging that drives results. With a content calendar in place, organizations can plan their communications far in advance and have peace of mind knowing their messages will hit the mark for maximum impact. This blog post will explore why creating and using a content calendar is essential for any successful nonprofit organization!
Creating a content calendar for your nonprofit using Asana can help you plan, organize, and execute your marketing and communication strategies effectively. Here are the steps to create a content calendar for your nonprofit using Asana:
Create a new project in Asana: Start by creating a new project in Asana, specifically for your content calendar. You can do this by clicking on the "+" button in the top bar and selecting "Project." Give your project a name, such as "Content Calendar," and select the appropriate team members who will be working on the project.

Determine your content types: Decide on the types of content you want to include in your content calendar. These can include blog posts, social media updates, email newsletters, videos, podcasts, and more. Create separate sections for each content type within your Asana project.

Decide on your content themes: Determine the themes you want to focus on for each month or quarter. These can include holidays, events, fundraising campaigns, or other relevant topics. Create separate tasks for each theme within each section.

Set deadlines: Assign deadlines for each task based on the publishing or posting schedule for each content type. Keeping your content strategy on course and give you the confidence to ensure success in all of your content goals.

Assign responsibilities: Assign team members to each task to ensure everyone knows their responsibilities and can collaborate effectively. You can use Asana's tagging and commenting features to communicate with your team members and provide feedback.

Track progress: Use Asana's progress tracking features to monitor the progress of each task and ensure that you are staying on schedule. You can also use Asana's calendar view to get an overview of all your upcoming content.

Make adjustments as needed: Be prepared to adjust your content calendar as needed to accommodate unexpected events, changes in priorities, or other factors that may impact your content plans.
Boost your nonprofit's content strategy with an organized and goal-focused Asana calendar. Follow our simple steps to create a comprehensive, streamlined plan that will keep you on track!
All in all, having a content calendar is the best way to keep your marketing projects on track. From finding upcoming events and holidays to managing content delivery dates, it takes seconds to have an organized system you can use to plan ahead. Asana makes this process even easier by combining project management and content calendars into one tool. You can enjoy the simplicity of having both features conveniently placed in line with other common team collaborations like timelines and feedback boards. Give Asana a try – we guarantee you won't regret it! Once you get more familiar with content calendaring and its many benefits, consider creating an Asana calendar tailored to your organization. To learn more about creating custom content calendars, watch our video to peek at one we designed for a nonprofit organization.