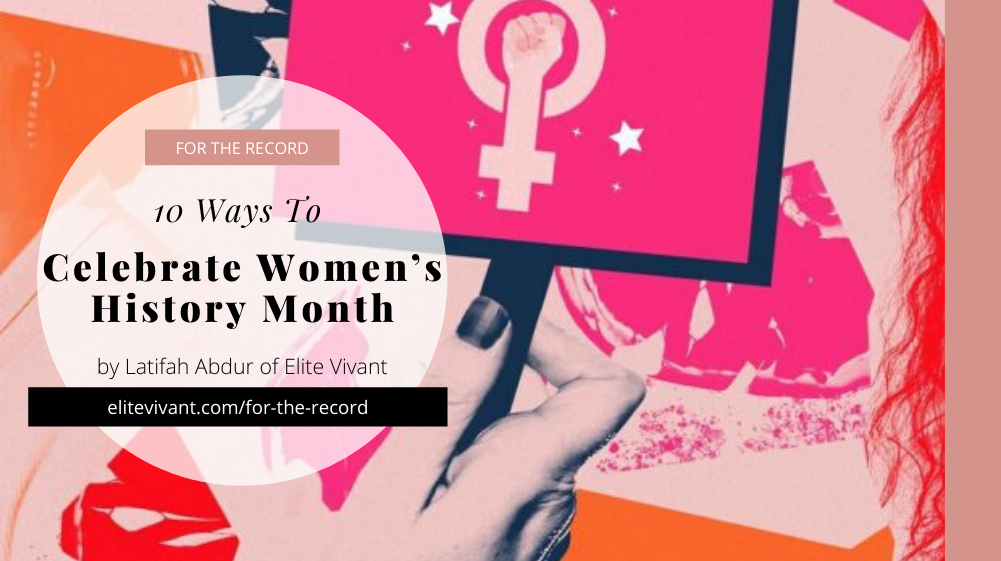 09

Mar
10 Ways To Celebrate Women's History Month
Women's History Month is upon us! This is a great time to appreciate the women in your life and reflect on those who have paved the way for us. These 10 tips will help you celebrate women all month long.
Women's History Month originated in the US in 1988 with a declaration from Ronald Reagan.
It was designed to be, "a time for us to recognize and salute women's contributions to the American family and society." Naturally, these contributions have changed as the lines between gender roles have blurred significantly. However, that makes now the most appealing time to celebrate Women's History Month. It's important to see how far we've come in order to understand how to get to where we want to be. Here are 10 easy ways that you can celebrate the women in your life throughout March and beyond.
1. Buy a book for a young girl.
This doesn't have to be one that conforms to gender roles. It doesn't have to be a book that's covered in pink with glitter on it. But, encouraging young girls to read gets their minds open and excited right from the start.
2. Purchase from other women-owned businesses.
As a woman in business, you know how empowering it is to see other women succeed! On a huge scale, there's stories like Rihanna taking the world by storm with Fenty Beauty and Beyoncé doing the same with Ivy Park. But, it's great to start small! Shop around locally-owned female-ran businesses and see what you find!
Shoutout: Lavender In Luxe is a Black Owned Self Care Brand that provides products aimed towards helping you prioritizing your self-care. 
3. Do a workout class with your squad.
Working out is one of the easiest ways to get yourself pumped up and energized! Also, it's even better with friends. Cycling classes are super trendy right now. Peloton is our personal favorite! There's a Facebook group with 16K+, badass black women who love riding Peloton. Shout out to the Ladies of Black Girl Magic: The Peloton Edition. My leaderboard name is #fueledbysweat follow me and high-five when you see me on.
4. Write a letter to a woman you love (platonically).
It is 2021! Who's writing letters these days? You don't have to pick up a physical pen & piece of paper, but handwritten notes do add an extra touch of personalization. However, you definitely can go the modern route and send a heartfelt note over email or text.
5. Watch some inspiring Women's March speeches.
Women's March speeches are incredibly powerful. The range of speakers and topics varies greatly, but the resonance is the same.

 
6. Practice more self-care.
This doesn't have to just manifest itself in the form of face masks and bubble baths! Practicing self-love is important all year, but it takes 30 days to build a habit. Start off small with things like daily positive affirmations. From there, make changes that you need to look and feel your absolute best. And remember to do that for yourself, with the end goal not being to impress anyone else!
7. Emphasize intimacy.
While consensual physical intimacy is important and healthy, mental intimacy is as well. Open up to your close friends and family that you can trust. Having an earnest chat with your significant other can also be empowering. Everyone likes reassurance sometimes! Knowing that you're a valued presence in your loved ones' lives can be validating and uplifting.
8. Educate yourself on the topic of feminism and what it truly means.
Lately, it seems easy to put the word "feminism" in a tightly sealed box. There are tons of misconceptions about what it actually means. The best way to educate yourself about feminism is to learn about women of all backgrounds. When you open your mind to those who are different from you, you're one step closer to becoming a heightened version of yourself.
9. Give back.
This can be done in big or small ways. A great idea is to gather menstrual care and beauty products and donate them to a local women's shelter. Getting your friends involved makes this a fun project that everyone can feel great about!
10. Rock out to some inspiring music.
There are some incredible women in music right now. They're doing incredibly creative projects that are breaking boundaries and pushing limits. What's even better is that the men in the industry are taking notice and standing with them in solidarity. Allowing women's voices to be heard more in music is a great step!
Here's a short playlist of songs by badass women:
Beyonce- Who Run The World
Alicia Keys- Superwomen
Kat Perry – Roar
Meghan Trainor- All about That Bass
Cyndia Lauper
Kelly Clarkson- Stronger (what doesn't kill you)
Alicia Keys- Girl on Fire
Demi Lavato – Confident
The Greatest Showman- This is Me
Christina Aguilera-Can't Hold Us Down
Cheers to celebrating the amazing women in our world and beyond.