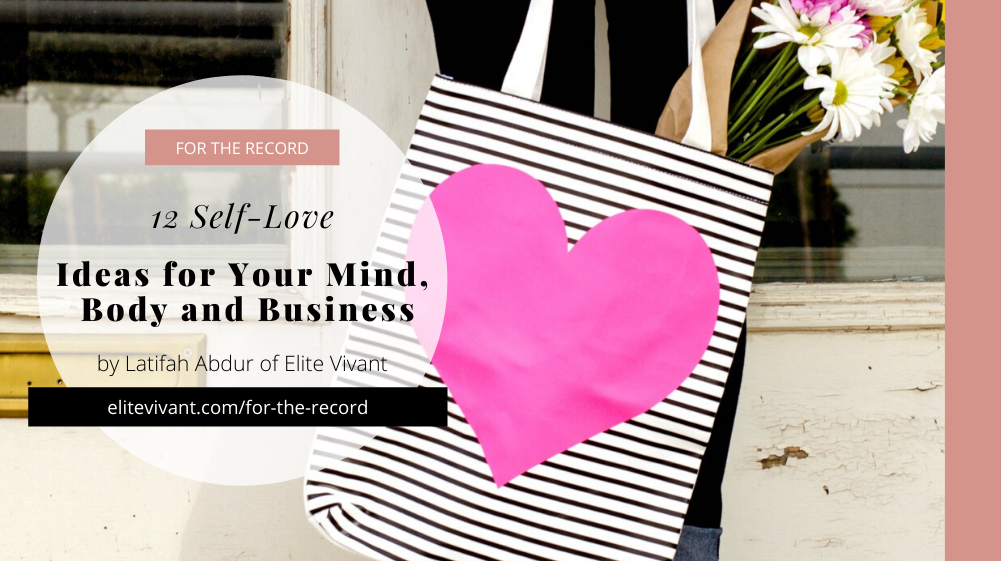 21

Feb
12 Self-Love Ideas for Your Mind, Body and Business
Refresh and rejuvenate yourself to be the best you possible.
Business isn't all about numbers and cashflow. Behind every successful business is a team or partnerships with hardworking people. Your self-care is just as important to your success as the numbers. If you're not taken care of, it'll begin to show in your work. Here's 12 self-love ideas for you to become your best self:
1. Remember to schedule in time for sleep. It's easy to substitute work for productivity. However, not getting an adequate 8 hours every night can take a toll on your workday. Studies show that lack of sleep can cause fatigue, irritation and forgetfulness. These are three things you want to keep out of the office!
2. Try to read for business and pleasure. Reading is a great way to expand the mind. Balancing your intake of fiction and nonfiction content helps keep your imagination flowing.
3. Commit to a healthy lifestyle. Sometimes, it feels like you need to set aside positive diet and exercise routines in order to get everything done. Even setting aside an hour a day to meal prep and do a quick workout will make a huge difference!
4. Find new ways to organize your life and business. There are loads of different methods to keep track of your routines. Separating your business and life planners may be helpful if you find yourself feeling scatter-brained.
5. Remember to schedule "me-time." As cliché as the phrase is, it's immensely important. Obviously, it's easier said than done. Try giving yourself an at-home spa day! This can mean anything you want it to. Simply relaxing in a hot bath can make all the difference.
6. Encourage healthy communication with your team. A stressful workplace can translate to your home life. If you communicate effectively and responsibility with your staff, you can create a positive and productive environment for everyone. This includes setting clear boundaries and rules.
7. Establish team-building exercises. These don't have to be anything excessive. It can even present itself in the form of a company golf day! Anything that makes you feel closer as a collective unit.
8. Let yourself stand-out. This can be both as a leader and a business. When you feel unique in your industry, it'll show in your success. What's the fun in being like everyone else?
9. Learn breathing techniques. When you're a business leader, you will often need to participate in public speaking. Most people have to learn to love this aspect of business with time. Learning breathing techniques can help you stay at ease before, during, and after your next big presentation!
10. Schedule in socialization. It can feel daunting writing in coffee dates in your planner. But, remembering to allow yourself the freedom to socialize rejuvenates your energy at work. It's also helpful to bounce back with creative ideas from friends!
11. Decorate your space. While you want to appear professional, it's important that your office belongs to you. This can mean having memorabilia from your favorite hobby, or photos of friends and family, surrounding you while you work. Having these reinforcements allows you to feel comforted and motivated.
12. Give yourself a treat. Sometimes, it's easy to put everything into your business. Giving back to yourself is important, too! Whether it's the new bag you've been eyeing or tickets to see your favorite band, allow yourself to feel spoiled. You've earned it!
Overall, success in self-care is just as important as success in numbers. Even taking an hour out of your busy day to take care of yourself will make all the difference! The best part is, when you take care of yourself, you're taking care of your business, too!
"Nourishing yourself in a way that helps you blossom in the direction you want to go is attainable, and you are worth the effort. " – Deborah Day
Ready to pour love into your business? Complete our New Client Questionnaire so that we can understand your needs and provide the best fit solutions.