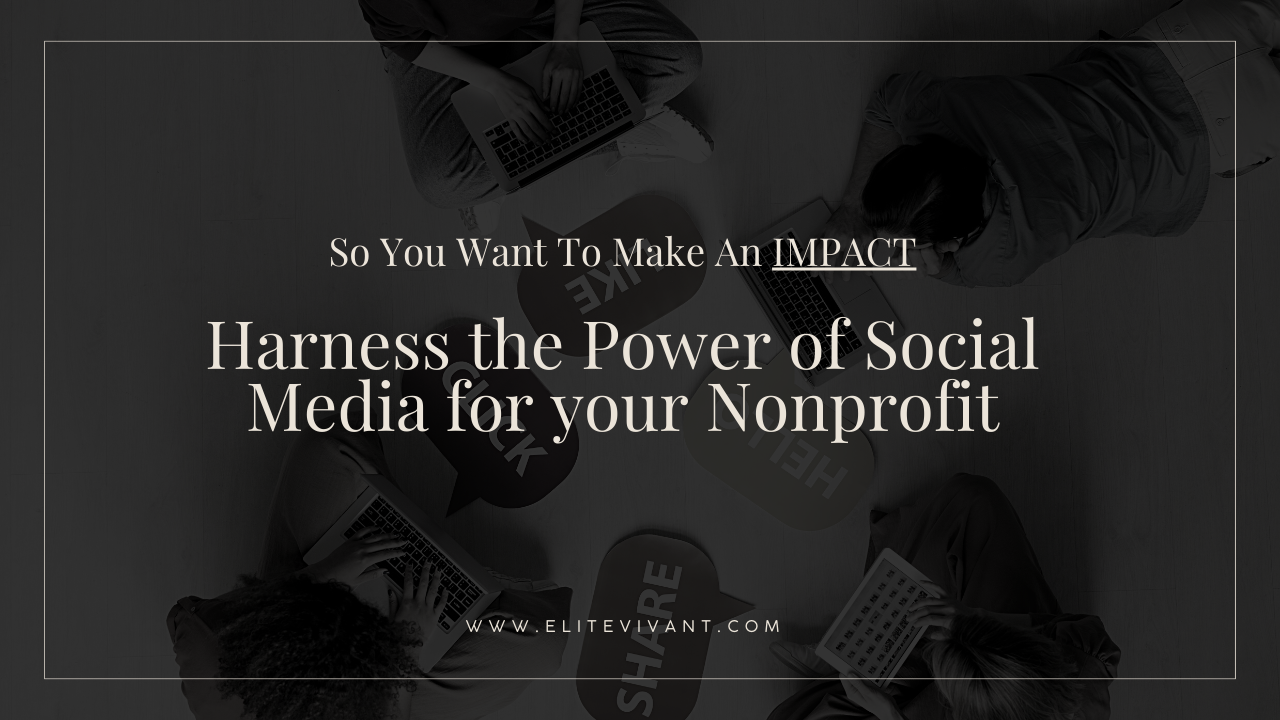 10

Mar
Harness the Power of Social Media for your Nonprofit
Are you a nonprofit leader looking to gain exposure for your cause, raise funds, and build an engaged community? Social media is the perfect way to reach people, whether down the street or halfway around the world. In this post, you'll learn practical tips on leveraging social media's power to attract new members and accomplish your organization's goals more effectively. From creating content that resonates with your target audience to developing creative campaigns and using advanced analytics – by incorporating these strategies into your game plan, you can increase online visibility and engagement with followers who align with your cause's mission and values!
Utilize social media to build a strong online presence.
In today's digital world, social media is the key to unlocking a powerful online presence for any organization. From social media marketing to social media fundraising, nonprofits can use social media platforms to build relationships with their audience, share powerful stories, and extend their impact. Leveraging social media is an effective way to amplify your reach beyond what traditional outreach methods can achieve. Whether creating posts to inform followers of upcoming events or using hashtags to coordinate virtual fundraisers, social media provides diverse opportunities for nonprofits to carry out successful campaigns. What are you waiting for? Building a strong online presence starts now with social media!
Select the right social media platform.
Figuring out which social media platform is right for your nonprofit organization can be overwhelming. However, the key to successful marketing on social media is to focus on quality over quantity. Assessing your core objectives and researching the various platforms is critical to finding what works best. What makes the most sense for one nonprofit may not make sense for another, so choose the social media platform that offers you the best opportunities to reach your target audience in a way that resonates. Once you have selected the right platform, devote time and effort to engaging with your current followers while actively seeking new ones. What's important is that you establish yourself as a credible source of information and increase visibility for your cause!
Create a content calendar.
Craft content that engages with your nonprofit's mission by creating a content calendar to ensure a consistent online presence. Content calendars provide an easy, organized way to plan content across your digital platforms. Setting up content calendars also lets your audience stay informed on what's reaching them, keeping them engaged in exciting opportunities, new memberships, or donations. The content calendar will ensure your content is timely, engaging, and effective for your nonprofit's goals, allowing you to stay active throughout the year!
Take advantage of visuals to capture attention and extend your reach
When it comes to engaging with your audience, take advantage of visuals! Images can be powerful tools for your organization, from taking photos and videos of your nonprofit in action to creative infographics. Quality visuals capture attention and make conversations more memorable and ensure that your mission resonates with those you are trying to reach. Visuals provide the perfect opportunity for organizations to engage with their followers and create a unique way for supporters to connect with them. Harnessing the power of digital initiatives is essential in boosting engagement now more than ever. Take advantage of visuals today!
Utilize LinkedIn and connect with people of influence.
LinkedIn is a powerful personal brand tool, and taking the initiative to optimize your profile and connect with people of influence can be very beneficial. The key to success is not just to join groups but to create content people want to be involved in, use hashtags wisely, optimize your about section, and engage in meaningful conversations with your network. Doing this will grow your network and result in better connections opportunities because people will recognize you as a thought leader. LinkedIn is essential if you're looking for more exposure or connection.
Share content that is informative and entertaining
Creating shareable content that is both informative and entertaining can do wonders for a nonprofit, especially on social media. By staying active and current on current events around your cause, you can share stories that educate followers about the issues and provide lighthearted relief in the form of inspiring messages and funny anecdotes. This creates relatable, memorable moments through which people can get to know you better and rally behind your mission when they understand your positive impact on their community. Combine these types of shareable content with relevant statistics to demonstrate your impact's powerful effect; this ensures that your inspiring stories are accompanied by factual evidence and help build trust with your followers.
Monitor the conversation around your organization and respond appropriately.
It is important to stay up to date on any conversations around your organization and respond proactively and timely. By using social media monitoring tools, you can track social media interactions and any feedback related to your brand. This allows you to build customer relationships and detect and address potential problems. Monitoring social conversations will enable you to strengthen customer loyalty by responding quickly and appropriately, reinforcing that you care about their opinion or experience. Ultimately, being active in such discussions will help improve your reputation, increase brand awareness, and build customer trust.
Leverage the power of Google Ad Grants to increase donations and awareness.
Google Ad Grants is a powerful tool for nonprofits to take advantage of, allowing them to increase donations and generate more awareness about their organization across the web. Google Ad Grants offer in-kind advertising services on Google platforms so that organizations can connect with people from around the world who are looking or searching for their social cause. It also enables nonprofits to conduct research efficiently, testing various keywords and methods to maximize their outreach and optimize campaigns. Using Google Ad Grants can bring your nonprofit's message to a broader range of potential donors, allowing your nonprofit to make a more significant impact. Using Google Ad Grants is one of the most effective ways to leverage increased donations and visibility for any charity.
From taking the initiative to build an online presence to leveraging visuals and Google Ad Grants, the paths nonprofits can take toward success through social media are innumerable. Every decision and action should align with the nonprofit's mission, core values, and goals. 
In short, effective utilization of social media lies in careful planning and thoughtful execution. 
If your nonprofit is serious about reaching larger audiences and amplifying its cause, then time to start implementing effective social media strategies for building your brand today. To make your start easier, download our 30 prompts for nonprofits so you can kickstart the creation of engaging content that will help draw in more attention. Your team could be making waves within a few weeks, so why not give it a try?
Start building your strategy now – the world is waiting! 
Need a customized social media strategy for your social media? Schedule a Consultation, and Let's Talk!