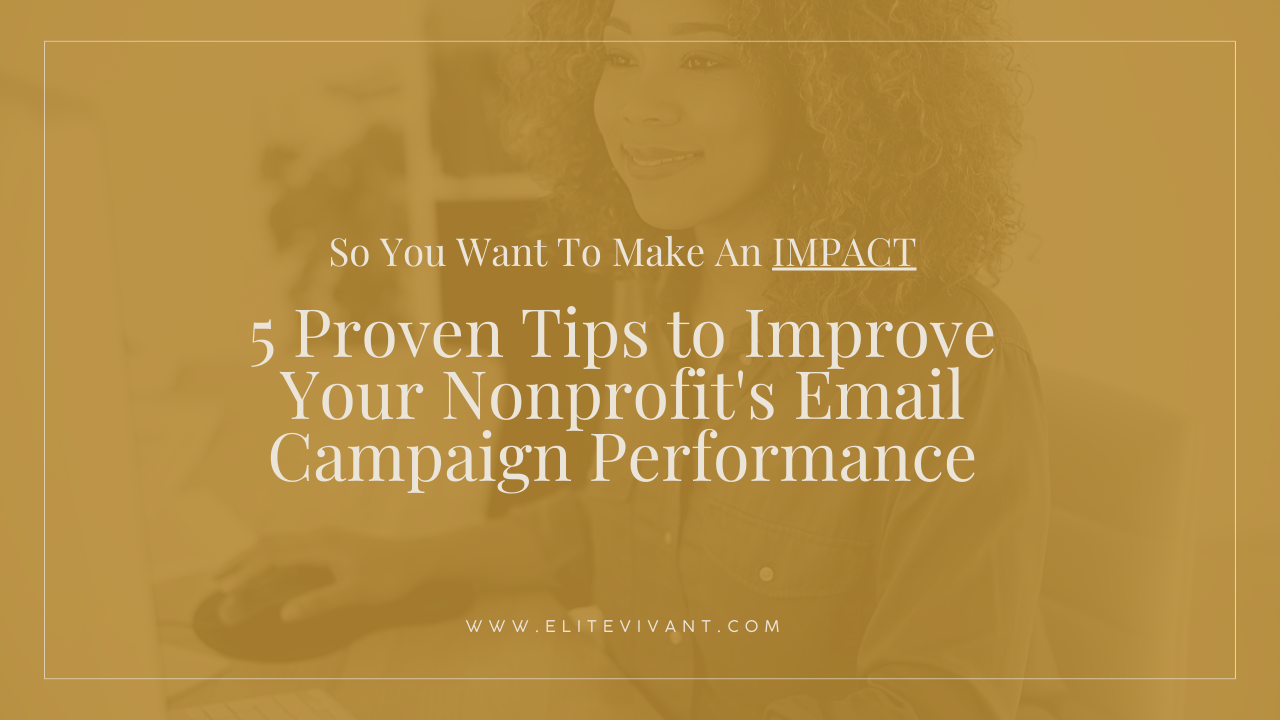 11

Mar
5 Proven Tips to Improve Your Nonprofit's Email Campaign Performance
Do you need help improving the performance of your nonprofit's email campaigns? You know that email campaigns are one of the most powerful, cost-effective marketing strategies — but how can you use them to boost donations, increase engagement, and support your cause? Luckily, we have compiled a list of five proven tips to help improve your nonprofit's email campaign performance. By following these simple steps, you can ensure that each message reaches its full potential and brings even more success to your nonprofit. So let's get started!
Craft compelling subject lines that grab readers' attention and make them want to learn more.
Crafting subject lines that draw the reader in is essential to ensure that your nonprofit emails are opened and read. Creating subject lines with a compelling message is far more effective than simply stating the task you are trying to achieve – subject lines should intrigue the reader so much that they cannot help but open and read their email. This could be achieved through something as simple as a clever pun or even, at times, an emotional pull by referencing a common struggle for the betterment of individuals or society. Subject lines should entice readers to learn more and reflect on what lies within the email; this will elevate your subject lines from a boring headline to an exciting invitation that brings your audience further into your content!
Design email campaigns with an easily scannable layout to encourage readers to keep reading further
When we talk about effective email campaigns, we love Active Campaign and Mailerlite! These platforms allow you to create emails with an easily scannable layout. Their intuitive editor provides flexibility that empowers you to create attractive and engaging emails. From paying attention to spacing and line length to selecting plain text rather than images for key messages, they ensure your subscribers get all the important information in the body of your message. Try it out today and leverage this powerful tool in your next email campaign!
Take full advantage of personalization features such as auto-fill fields and A/B testing.
A/B testing is a great way to take advantage of personalized marketing. This type of testing allows you to A/B test email marketing content, such as subject lines, copy, and visuals. A/B testing helps you quickly identify which messages are most effective for engaging with your target audience. Additionally, automating data capturing and using personalized auto-fill fields in forms can help you tailor marketing campaigns to clearly defined personas so that they better understand and relate to your brand. With A/B testing and personalization features, businesses can create tailored messaging with higher conversion rates, ultimately enabling them to reach their desired customer base faster.
Test out different types of call-to-action buttons to ensure readers know what action you want them to take
Incorporating nonprofit email call-to-action buttons into your communications strategy is an effective and straightforward way to encourage readers to take the desired next step. Different types of buttons should be tested to determine which resonates best with your intended audience – for example, trying a "Donate Now!" button may garner more donations than simply saying "Give". Each nonprofit has a unique message, and each reader should have the chance to engage with the content in the way that best resonates with them. Investing time and energy into testing different types of call-to-action buttons will help ensure your nonprofit's communication is as engaging and effective as possible.
Leverage segmentation techniques to ensure your emails are reaching only the right people at the right time
Email marketing is a powerful tool for connecting with customers, but only if used correctly. To ensure your email messages reach the right people at the right time, leveraging email marketing segmentation is key. Segmentation involves understanding and grouping your recipients based on their behaviors, needs, interests, and more, so you can craft email campaigns tailored specifically to them. This helps ensure your email messages are seen by the right people – making email marketing even more effective and helping you boost customer engagement and loyalty.
Email marketing is a great way to reach your target audience cost-efficiently. By crafting compelling subject lines, designing easily scannable layouts, taking full advantage of personalization features, testing out different call-to-action buttons, and leveraging segmentation techniques, you can make sure your email campaigns are effective and reach the right people at the right time. Implement these strategies to maximize your reach and success with email marketing. If you'd like some help getting started, check out our library of 5 customizable emails to help you customize your strategy and grow your business. Start learning from those emails today and prepare for bigger and better results tomorrow!