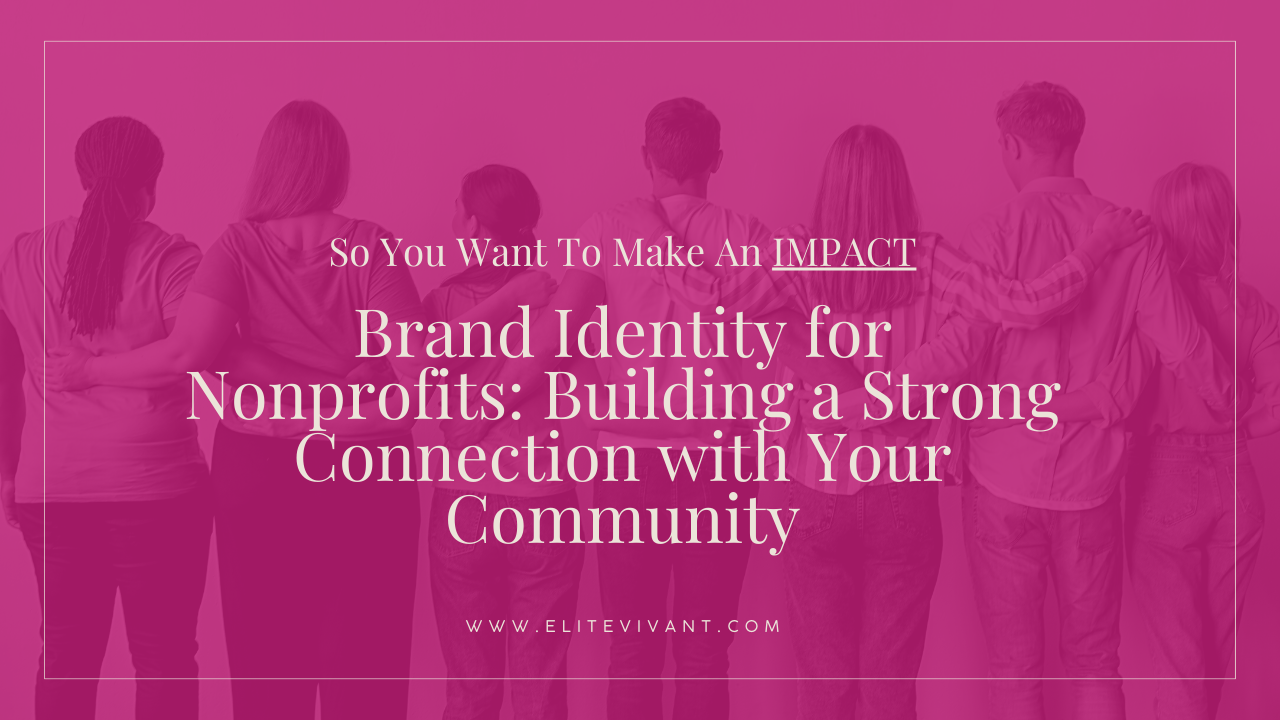 11

Mar
Brand Identity for Nonprofits: Building a Strong Connection with Your Community
As a nonprofit, building your brand identity and creating an emotional connection with your community is essential. With the right strategies, you can better showcase your purpose and set yourself up for increased success. But if you need help figuring out where to start or how to make the greatest impact, that's where we can help! At Elite Vivant, we specialize in creating strong branding projects for nonprofits like yours so that you can achieve your goals and maximize engagement, support, and donor growth potential. In this blog post, we'll discuss how having a clear brand identity is essential for helping engage more community members through visual marketing tactics – allowing you to act upon your mission of impact.
The importance of creating a solid brand identity for nonprofits
Creating a brand identity to represent a nonprofit is essential to attract potential donors and volunteers and building trust with the public. An easily recognizable brand identity that conveys the nonprofit organization's goals can inspire passion and loyalty among those who donate and volunteer their time. We focus on helping nonprofits develop a compelling brand identity through web design, marketing, and branding initiatives. With these tools, nonprofits have the power to create a brand that will resonate with their target audiences and make an even more significant impact in achieving sustainable change.
How branding works in the nonprofit world
Nonprofits work hard to create meaningful and lasting impacts in local and global communities. Branding helps develop a recognizable identity that can help attract donors, volunteers, and public attention. Of course, branding should also align with the nonprofit's mission and values, so organizations must consider how branding works within their nonprofit world. With careful consideration of branding capabilities, nonprofits are empowered by having an identity to help spread their message while working towards positive change within our society.
Essential elements of a nonprofit's brand identity
The essential elements of a nonprofit's brand identity are the foundation of a successful organization. Every nonprofit must develop a visual identity that accurately reflects its mission while appealing to its target audience. This includes the design elements, such as logos and imagery, that activate when uniquely designed web pages, emails, and publications come together. By utilizing experienced knowledge in branding, web design, and marketing, we are able to help nonprofits create an engaging and impactful brand identity that effectively conveys their message. With this customized approach, your organization will be equipped with the necessary tools to succeed and make an even bigger difference for its cause.
Here are some brand identity elements that your nonprofit organization can focus on:
Mission Statement: A clear, concise statement that communicates the organization's purpose and goals.

Logo: A symbol or design that represents the organization and can be easily recognizable.

Color palette: A set of colors that represent the organization and its values.

Typography: A specific font or typeface used consistently throughout all communication materials.

Tone of voice: A consistent style and tone used in all written communication, such as newsletters, social media, and website content.

Tagline: A brief, catchy phrase that communicates the essence of the organization and its mission.

Imagery: Consistent use of photography, graphics, and other visuals that align with the organization's values and mission.

Brand Guidelines: A document that outlines all of the above elements, as well as instructions for their use and application across all communication channels.

Messaging: Clear and consistent messaging that conveys the organization's mission and values.

Website: A user-friendly, informative website that reflects the organization's brand identity and mission.

Social media presence: Consistent messaging, visual elements, and engagement with followers across all social media platforms.

Community involvement: Building relationships with supporters and partners and being an active member of the community that aligns with the organization's mission.
Take a peak at some nonprofit clients we create full brand identities for
All logo design starts by researching the nonprofit sector, the audience they will serve, and the purpose of creating a logo design that tells a story. We then use cutting-edge tools and techniques to create beautiful visuals that effectively communicate the nonprofit's message. Once completed, our team provides thorough feedback and suggestions to ensure the organization ends up with a logo they are proud of — one that represents their beliefs and makes them stand out.
(Logos) 
In today's competitive digital landscape, it is essential for nonprofits to stand out with a strong and recognizable brand identity. Nonprofits that utilize best practices such as creating a captivating logo, leveraging digital marketing and web design, and developing consistent messaging can make a bigger impact in their community. We believe in the power of creativity and innovation to expand on the work our clients are already doing. Our team will work diligently to ensure your organization's message is not only heard but embraced by the people you seek to reach. If your nonprofit needs help building a robust branding or elevating its online presence through web design, then schedule a consultation with us today to get started!