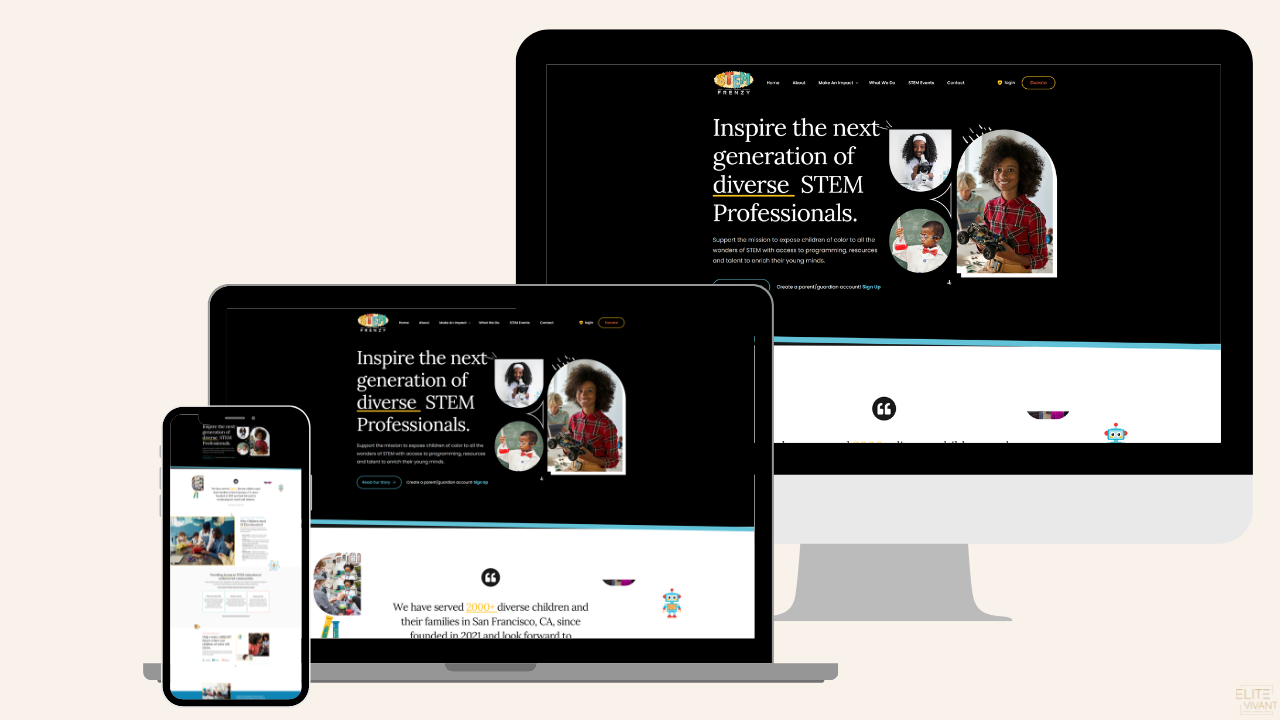 28

February
Branding and Marketing for STEM Program
About
STEM Frenzy is established by The African American Early Childhood Educators and Funded by The Dream Keeper Initiative. The STEM Frenzy mission is to bring the power of the STEM (Science, Technology, Engineering, and Math) to underserved communities in the Bay Area. STEM Frenzy wants to give these students access to the same top-level educational resources, innovative opportunities, and educational experiences that benefitted privileged kids.
Challenge
STEM Frenzy wanted to create a market presence to drive awareness and attendance for their STEM festival. They also wanted to create an online platform to register parents, students, and communicate with volunteers. Additionally, they wanted to increase their public visibility and website traffic with SEO, digital and social media marketing.
"We knew we wanted to make a big impact on our first year, so we needed to find the right partner: one that could come in and help position our initiative, provide the necessary web and workflow design and development, and launch our first STEM Festival"
– Delia Fitzpatrick, Founder, STEM Frenzy
Solution
STEM Frenzy worked with our expert team to develop branding, design, and develop the website and publicity plan to launch the STEM Frenzy program. We quickly got to work on understanding the target audience and created a user experience that was simple, intuitive, and easily navigable. The website also includes a booking page for upcoming Frenzy Workshop, volunteer intake forms, and exhibitor page and intake form to help streamline workflows.
In terms of marketing and branding, We leveraged the latest digital strategies such as SEO, social media, and SMS marketing, to increase STEM Frenzy's visibility. Additionally, we created press releases, email campaigns, videos, and graphics to keep the STEM Frenzy's name on the top of the minds of potential diverse students and drive more interest.
Outcome
By leveraging the latest technological solutions and digital strategies, Elite Vivant was able to help Elite STEM Frenzy successfully launch the AMAZING STEM Frenzy program and its first and second STEM Festival. They were able to increase website visits and signups by over 250% in the second year and grow their email list by almost 150%. It was a successful launch that gave diverse children and families the opportunity to get an early start on exploring STEM and developing the skills they need to be successful in today's technology-dominated world.